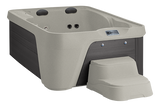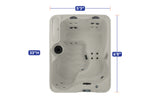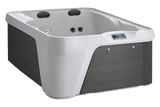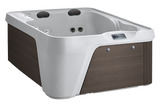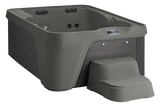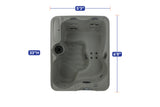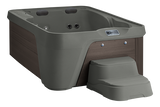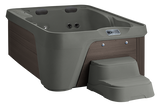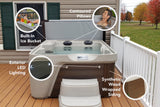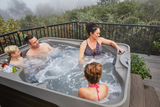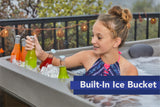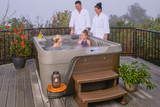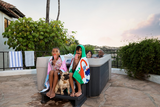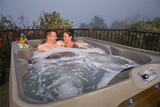 Deep and spacious, the Azure Premier hot tub is perfect for spending quality time with your family. 

Kids will love the waterfall feature and the multi-color LED light, and the molded-in ice bucket makes it easy to keep drinks cold for long soaks on hot on summer days.
You can even customize the exterior colors to match your style and complement your deck or backyard. Choose from arctic white, sand or taupe for the shell and brown or charcoal faux wood siding
This affordable hot tub features Plug-N-Play technology, so all you have to do is plug it into a standard outdoor outlet — no additional wiring required.
All spas include a thermal locking cover. 
Overview
Seating Capacity

4

Dimensions: L x W x H

6'8" X 5'3" X 33"H

Gallons

235

Dry Weight

366 lbs

Shape

Rectangular / Lounge

Jets Qty.

19

Water Feature

Waterfall

Ozone*

No

Heater

1KW / 4KW

Pump

1.5 BHP, 2-Speed

Filter Size

50 sq. ft.

Filter Lid

No

Light Type

LED

Electrical Configuration

110v Plug-N-Play includes GFCI power cord / 230v convertible
Shell & Cabinet
Shell | Cabinet Colors

Arctic, Sand & Taupe | Charcoal & Brown

Cabinet Type

Synthetic Wood
Shipping
FreeflowSpas.com hot tub purchases are all shipped via free curbside delivery (available for continental US only) within 3-4 weeks of purchase. Once your hot tub has shipped you will receive an email with tracking information. You can always refer to the order tracking tool to check the status of your order. If you ordered any accessories with the hot tub, they will be shipped with the hot tub.
Returns
We know that buying a hot tub is a big deal. That is why every online hot tub purchase is backed by a 60-Day Satisfaction Guarantee.

Should you wish to return your Freeflow Spa for any reason within 60-calendar days of the date you received your spa, we will take it back for a full refund of the original purchase price if the merchandise is in working order. All customers will be charged a 10% restocking fee. To process a return, fill out our return form.
Cancellations and returns initiated prior to shipment will be refunded in full. 
Our Guarantee
Every Freeflow Spa comes with a 5-year structure warranty, 5-year shell/surface warranty 1-year equipment warranty, 1-year labor warranty, and 1-year plumbing warranty.
Learn More
It's What's On The Inside That Counts
Freeflow Spas are manufactured using rotational molding and filled with full foam insulation making them extremely durable and energy efficient.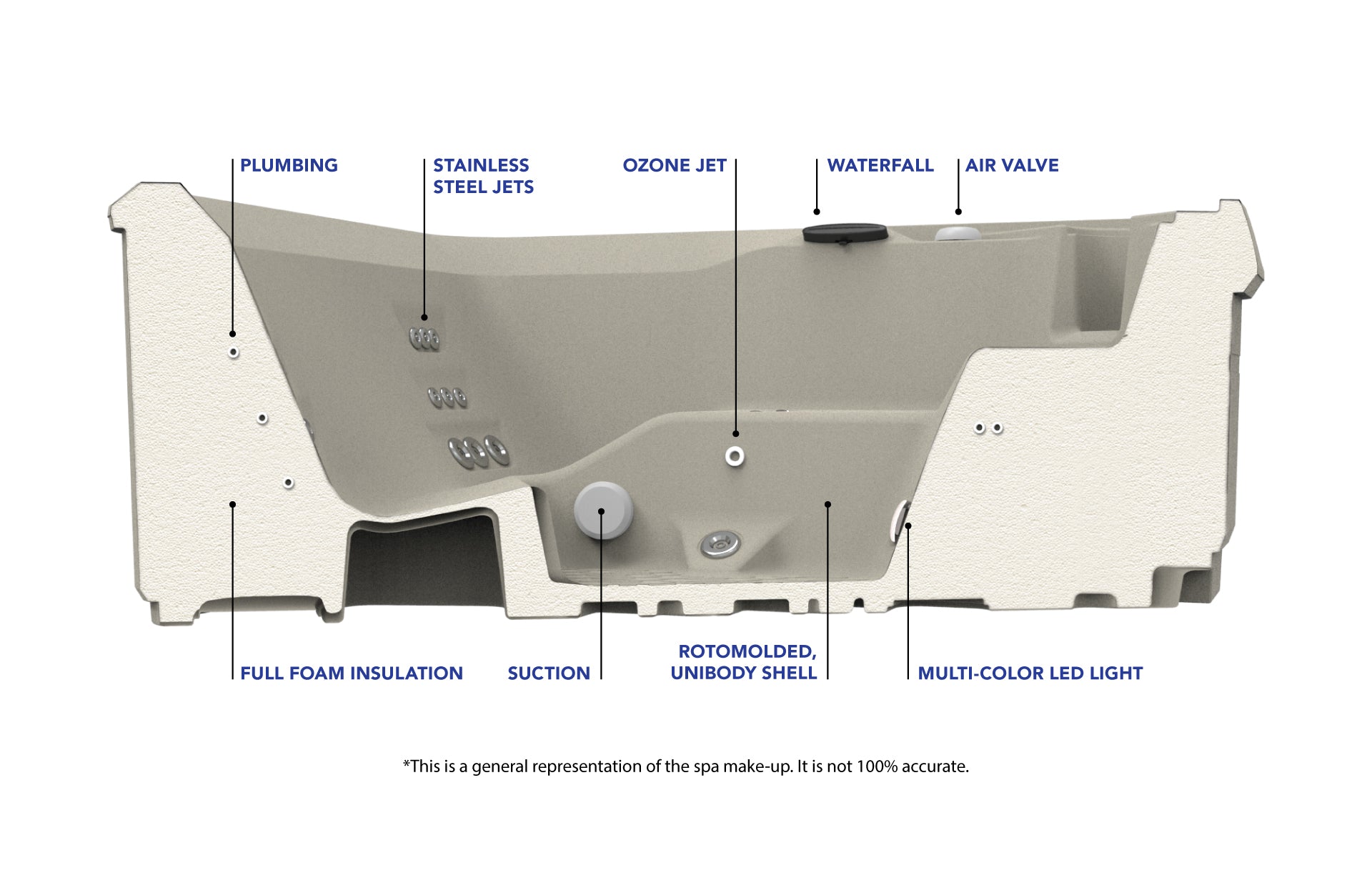 Superior Strength
Freeflow Spas® are rotationally molded, unibody hot tubs where the shell and cabinet are all one piece. The benefits of rotomolded hot tubs are superior durability at an affordable cost.
Full Foam Insulation
Each spa is engineered with full foam insulation and certified to the strict guidelines set forth by the California Energy Commission (CEC) who sets the bar for energy-efficient hot tubs.
Plug-N-Play Technology
All Freeflow Spas come standard as a 110-volt Plug-N-Play hot tub, but can easily be converted to 220-volts by a licensed electrician. Upon delivery all you need to do is simply add water, plug it in, and enjoy!
×
4 Person Azure Premier Spa

Price
Seats
4
4
2
3
4
Jets
19
19
10
17
17
Dimensions
6'8" X 5'3" X 33"H
6'8" x 5'3" x 33"
6' X 3'11" X 29"H
5'10" X 5'10" X 31"H
5'10" X 5'4" X 33"H
Lounge Seat
Yes
Yes
Yes
No
No
Water Capacity
235 Gallons
235 Gallons
120 Gallons
185 Gallons
185 Gallons
Dry Weight
366 lbs
326 lbs
250 lbs
302 lbs
284 lbs
Shell Color Options
Shell: Artic White, Sand, Taupe | Cabinet: Charcoal, Brown
Sand, Taupe
Sand, Taupe
Sand, Taupe
Sand, Taupe
Wood Siding
Yes
No
No
No
No
Waterfall
Yes
Yes
No
Yes
Yes
Multi-Colored LED Lighting
Yes, Interior & Exterior
Yes, Interior
Yes, Interior
Yes, Interior
Yes, Interior
Contoured Pillows
Yes
No
No
No
No
Built-In Cooler
Yes
Yes
No
No
No
Thermal Locking Cover
Yes, included
Yes, Included
Yes, Included
Yes, Included
Yes, Included
Filter Size
50 Sq Ft.
50 Sq Ft.
25 Sq Ft.
50 Sq Ft.
50 Sq Ft.
110-Volt Plug-N-Play
Yes, comes standard
Yes, comes standard
Yes, comes standard
Yes, comes standard
Yes, comes standard
220V Convertible
Yes
Yes
Yes
Yes
Yes
Excursion Premier in Sand / Brown
Monterey in Sand
Excursion in Sand
Azure Premier in Taupe/Brown
Aptos in Sand
Waterfall Feature
Azure in Taupe
Monterey in Sand
Aptos in Taupe
Mini in Sand